A recipe for baking keto bread with mozzarella cheese is one of the most reliable keto side dishes you can enjoy. After a prolonged search and our try in a kitchen, we have placed before you, incredibly cheesy, satisfyingly chewy, & delightfully yummy! And that's not even the best part about these keto mozzarella bread recipes. The other positive point about these is that you have few ingredients to make them, and every slice of these has practically zero or low carb.
It is good to shred your cheese because pre-shredded cheeses typically have added starches to limit "caking & sticking," and these starches comprise carbohydrates. 
All easy to follow recipes keep the softness of the mozzarella cheese with the crunchiness of the bread that surrounds it. Select anyone and enjoy your breakfast or lunch.
1:Keto Cheesy Bread Shredded Mozzarella Cheese
It is for single person recipe, increase the quantity likewise for family
Ingredients:
1 cup shredded mozzarella cheese

½ cup shredded parmesan cheese use 1 cup 

Pinch of Italian seasoning optional

Parchment paper

1 egg

1 ½ tsp garlic powder

Salt
Steps To Follow
For making a keto bread recipe with mozzarella cheese, first of all, preheat the oven to 350 F.

Whisk all ingredients in a containe

r and tap it out. Sprinkle some salt on the surface.

Bake it for about 15 minutes.

Cook on high for 1-2 minutes to dress a crisper surface and brown borders.
Use a pizza cutter to make similar slices and enjoy it with some Rao's marinara sauce.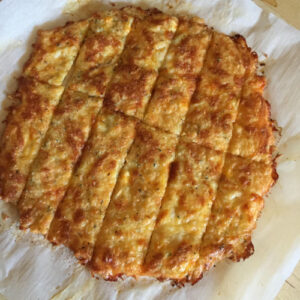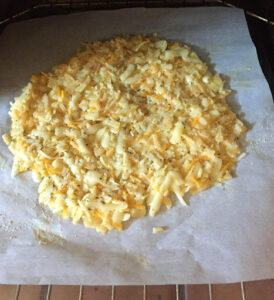 2

:

3 Ingredient Flourless Mozzarella Breadsticks
One of the easiest cheesy breadsticks. Only 3 ingredients to make these low-carb and gluten-free breadsticks.
Ingredients:
1 1/2 cups shredded mozzarella cheese

1/2 tsp Italian seasoning

2 large eggs
FOR THE TOPPING
1/2 cup shredded mozzarella cheese

1 tsp finely chopped parsley

optional

2 tbsp shredded parmesan cheese

optional
Steps to Follow
Preheat the oven to 350°F. And add parchment paper to the wide baking pane.

In a pot, add 1 1/2 cups cheese, eggs, and seasoning. Combine until everything is mixed.

Put batter into a microwave-safe pan. Delicately spread the batter until it equally covers the ground of the pan. Place into the oven and cook for around 20 minutes. The coat should be fairly solid with no wet dough remaining on the surface area. Transfer from the oven and let it cool for a few minutes.

Again preheat the oven to 425°F. Carefully separate the crust off of parchment paper and place it onto an oven-safe cooling stand. The cooling stand or rack will let the base crisp up. 

Cover surface with remaining 1/2 cup cheese. If desired, you can substitute 2 tbsp of mozzarella for 2 tbsp of parmesan, which provides a little different flavor. Put the cooling rack into the oven and make breadsticks for about 5 minutes, or until cheese is softened and blistered.

Enjoy the yummy

keto bread recipe

with

mozzarella cheese

.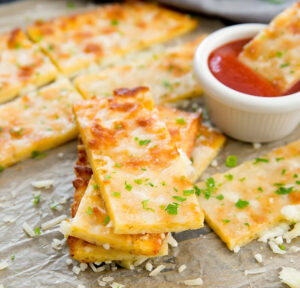 3: Easy Keto Cheesy Garlic bread Italian-style breadsticks
Ingredients:
2 cups shredded mozzarella cheese (divided)

1 egg

3 tbsp cream cheese

1/2 tsp garlic powder

1/2 tsp oregano

1/4 tsp salt

1/2 cup almond flour

1/4 tsp pepper

2 tbsp coconut flour (see notes)

1/4 cup shredded parmesan cheese

1 tbsp chopped basil (optional)
Instruction:
Preheat the oven to 425°F. Have a baking sheet with parchment paper.

In a wide bowl, put 1 1/2 cups of mozzarella plus the cream cheese. In the microwave let it melt in a series of short, 30-second intervals. After each interval, mix the cheeses until they are thoroughly melted and smooth. This will take about 1-2 minutes, depending on your microwave. Try not to overcook.

After that add egg, coconut flour, almond flour, herbs, salt, and pepper to the melted cheese. Mix with a spatula till well merged. The dough will be sticky. 

Leave the dough to cool somewhat to make it simpler to work with. Spread the dough onto a parchment-lined sheet. To pat the dough, you can use fingertips or cover with plastic wrap and roll the dough out to a 1/4 inch thickness.

Bake for about 5 minutes. Take out from the oven, and sprinkle with the leftover 1/2 cup of parmesan cheese and mozzarella cheese. Bake for another 5-7 minutes for golden brown edges of the dough.

Add with basil for garnishing, and for dipping tomato sauce is ideal.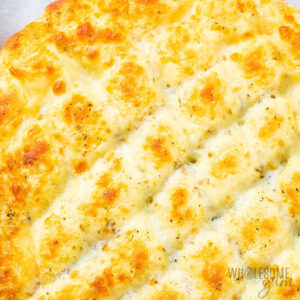 4: Low Carb Bread Loaf (Keto | Gluten-Free | Grain-Free | LCHF)
Ingredients:
2 cups mozzarella cheese shredded

4 oz cream cheese

4 eggs

2 cups almond flour

3 tbsp flaxseed meal

1 tbsp baking powder

1/2 tsp salt

Optional: 1/4 tsp xanthan gum
Instructions
Grease a loaf pan and preheat the oven to 400°F.

In a microwavable dish, melt both the mozzarella and cream cheese together for 1-2 minutes, until well mixed. Check it at 1 minute, mix, and if it requires more, then proceed to microwave in 30-second increments.

After the addition of well-mixing eggs add flaxseed meal, baking powder, almond flour, salt, and xanthan gum. Beat well until all well mixed.

In a loaf pan, pour the bread mixture and bake for around 20-25 minutes, till the inserted toothpick gets out clean and the surface has browned.

Let it cool down for 15 minutes, then slice it, serve & enjoy!
Note
You can store this bread in an air-airtight container for 5 days (plus a few more days if refrigerated).
It can also be frozen for up to 3 months.
5: Keto Bread Recipe With Mozzarella Cheese Zero Carbs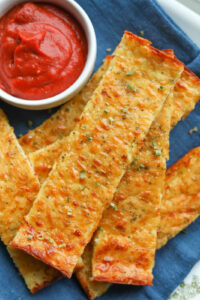 It's hard to believe this keto cheese bread requires only a few common low-carb ingredients to make. 
And there's actually a good chance you have most of these ingredients in your pantry and fridge right now.
All you'll need is: 
2 Eggs

1 ½ Cup of freshly grated parmesan cheese 

2 cups of freshly shredded mozzarella cheese 

& Some optional seasonings
For seasonings you can add:
½ Teaspoon garlic powder

½ Teaspoon onion powder

 A pinch of Italian seasoning

 




Steps

1: Start by preheating the oven to 350° Fahrenheit (177° C)

2: In a medium-sized bowl crack two large eggs, and whisk the eggs until the yolk and whites are blended.

3: Add the freshly shredded mozzarella cheese plus grated parmesan cheese.

4: Now add optional seasonings, then mix the ingredients until they create a crumbly texture. 

5: Take the dough with your hands and form a big ball of dough.

6: Then, place the ball inside the bowl, and place the bowl aside.

O7: Wet your hands and sprinkle the water on the inside of the tray. This will hold the parchment paper in place when you add.

8: After the parchment paper is in place, coat it with nonstick baking spray and set the ball of dough. 

9: Then, press the dough out into the tray using your hands. Make sure to press the dough out symmetrically so that it cooks uniformly.

10: Time to bake it about 25 minutes to cook all the way through. 

11: Check if it has a golden crust on top, take it out of the oven and set it to cool off. 

12: Slice the cheese bread into 8 to 10 pieces using a pizza cutter.

13: Dipping this stuff into some RAO's keto-friendly pizza sauce.