Looking for Flour? Friendly for keto? and for what, ok my guess, you're planning for making bread. That's best for today. But what about the quality and true features of keto-friendly flour. Well! As the diet is super sensitive to follow, so all keto recipes demand high nutritional observations of all ingredients. Here our deep observations and hard work put forward, best and well quality flour used for ketogenic diet-based recipes.
This awesome diet has taken the world by storm, ensuring quick weight loss by consuming fat for fuel rather than carbs. 
The ketogenic diet is an ideal solution for anyone who endures things like Alzheimer's sickness, obesity, high cholesterol, and a host of other diseases and infirmities. And particularly for women, this diet is a blessing.
Scroll Down For: 
How To Choose Your Keto Flours/ Top Features

Is Keto Flour Healthy

?

Best Flour For Keto Bread-Making ?/ Keto Flour List

Which Flour Has the Least carbs?
Click For Related Content:
Keto Bread Recipe With Mozzarella Cheese

What Is The Best Keto Bread To Buy
How To Choose Your Keto Flour/ Top Features
You have fewer food options when you're on a diet. Like on the keto diet, just one bite of doughnut can throw you out of ketosis. 
Fortunately, there are a lot of options available for people opting for this diet. A variety of low-fat flour is now there to help you with a meal that will fulfill your cravings and leave you with the satisfaction of not cheating on your meal plan. 
Each flour must indicate the following features on its label in order to qualify as keto-friendly.
Gluten-free ( 

rice flour

, teff flour, tapioca flour, potato starch, etc)

Ideal Net carbs in keto flour are considered less than 6g.

High in protein, minerals, and antioxidants

No Added Sugar

Best if rich in Omega Fatty acids
For people following a low-carb diet, keto flour is a great option. To choose from a long list of less-carb flour we formulated some best options. No doubt, You will be healthy and fit with this low net carb, gluten-free and protein-rich meal given below.
buy best Keto-Friendly Flour
SERVING SIZE              28g (1/4cup)
Calories                                   170
Gluten                                        0
Sugar                          1g  (only natural)
Protein                                     6g
Carbohydrates                        5g
Fiber                                         3g
NET CARB                               2G
Brand                   Blue Diamond Almonds
Ingredients           Blanched almond flour
Weight                  3 Pounds(i pack)
Allergen Info         Tree Nuts
Whether you are on a keto diet or paleo, the company named BLUE Diamonds Almonds offers one of the best-selling items. Over its 100 years journey, this company has woven the best experience in the field of healthy foods. From their beautiful almond garden to the grinding process this flour is really working for your sweet smile.
Add protein, vitamin E, fiber, magnesium into your baking recipe like for keto bread, and enjoy the amazing taste as well. It is recommended that as no gluten is added when baking, so better to use any additional binding agent. While making any relevant dish, add it slowly until desired thickness. You can freeze
✓ Low carb and best keto friendly
✓ Can freeze it for a long time.
✓ Rich in nutrition
✓ finely ground, blanched, and fresh
✓ Superb quality and texture
Θ Few complaints regarding bag packaging like low-quality bag zip
SERVING SIZE              30g (1/4cup)
Calories                               110
Sugar                                    1g  
Protein                                17G
Cholesterol                        5mg  
Carbohydrates                    8g
Fiber                                     4g
NET CARB                           4G
Brand                              KING Arthur
Weight                             16 Ounces
texture                       Like regular flour
Main ingredients     Vital wheat gluten, whey, wheat fiber, butter-milk, sunflower oil, etc
Since 1970 KING Arthur Keto flour has been on its glorious way to inspire the world. Their goal is to be the terminal source and inspiration in the kitchen, to motivate and link the community through baking.
Formed from whole wheat, it offers a nut-free alternative to other keto flours like almond or coconut. Like a traditional wheat taste, it is formulated by bakers uniquely for baking and smiles in yeasted bread. 
Containing just 4g of net carbs per serving, it is ideal for those following a ketogenic diet or overcoming their carb intake.
For making the best yeast bread, raise the water or milk in dough by about 2 tablespoons per cup of Keto Flour.
✓ Diabetes-friendly, non-GMO, Nutritious
✓ All-Purpose Flour keeps the carb count low
✓ Higher in protein, lower in starch

✓ Highly suitable for pizza dough, bread, and yeast baking
✓ Nice Flavor and consistency
✓ Enjoy a nice wheat smell of its loaf
Θ 

Little expensive 

Θ 

Not gluten-free
SERVING SIZE                   14g (2Tbsp)
Calories                                    110
Sugar                                         1g  
Protein                                      4G
Cholesterol                             0mg  
Carbohydrates                         5g
Fiber                                          1g
NET CARB                                4G
Brand                      BOb's Red Mill
Weight                     16 Ounces
texture                       Like regular flour
Main ingredients     Blanched Almonds
To provide pure and nutrition-rich feed to family and community was the dream of Bob and his wife. Ultimately, those efforts led to the formation of Bob's Red Mill in 1976. While the company has endured its share of challenges, its hope has been evolving and thriving ever since. Bob's Red Mill offers gluten-free products, paleo-friendly, keto, kosher, and vegan grocery products.
As single-ingredient flour, this is suitable for a low-carb and gluten-free diet. The little sweet blanched ground almonds flour is an ideal choice for making French macarons, bread, pie crusts, cakes, 
Nutrition-rich flour contains protein, fiber, and vitamin E. Enjoy it in savory dishes and can substitute breadcrumbs in meatballs or use as a coating for chicken or fish. 
✓ Cholesterol free
✓ Good for Diabetic patients
✓ Gluten-Free and Non-GMO
✓ Dairy, meat, or any dairy or meat derivatives are not added
✓ Vegan/Vegetarian, nutritious, flavorful
SERVING SIZE                 14g (2Tbsp)
Calories                                   60
Sugar                                       2g  
Protein                                    2g
Cholesterol                           0mg  
Carbohydrates                       8g
Fiber                                        6g
NET CARB                              2g
Brand                   Arrowhead Mills
Weight                   0.6pound
Allergen Info         Tree nuts and derivatives
Main ingredients     Organic Coconut Flour
Certified Gluten-Free Arrowhead Mills company was born in 1960. This organic Coconut Flour is formed with only Fair Trade Certified coconuts and carries quality goods that develop lives and protects the environment. 
You can enjoy it daily as part of gluten-free baking. Use it for pancakes, bagels, brownies, bread, and fried chicken batter, etc.
Must Use only after cooking and store in a cool, dry place. 
✓ Excellent Source of Fiber
✓ Gluten-Free, USDA Organic
✓ Nice flavor and texture
✓ Contains 2 g Total Fat per serving
✓ Non-GMO Project Verified
✓ No added sugar
SERVING SIZE                   30g (¼ CUP)
Calories                                     110
Sugar                                          0g  
Protein                                       23g
Cholesterol                              0mg  
Carbohydrates                           4g
Fiber                                            0g
NET CARB                                  4g
Brand                          Anthony's Vital
Weight                               1.81kg
Main ingredients     Organic Oat Fiber
Vital wheat gluten by Anthony's is keto-friendly and high in protein, which is also known as the natural nemesis of gluten-free. It is derived from the protein, present in wheat.
The processed gluten when mixed with water and spiced, this vital wheat gluten makes seitan, (vegetarian meat), which is rich in protein.  You can also add this vital wheat gluten to regular flour to enhance the content, resulting in high-gluten flour, which is perfect for baking chewier bread. We suggest storing the pouch inside and under a dry environment to maintain freshness.
It helps to improve the elasticity and texture of dough made from 100% natural wheat gluten
✓ Certified Organic by CCOF
✓ A staple for vegan and vegetarian meat alternatives
✓ Easily absorbs liquids and mixes into everything
✓ Good in Quality
✓ Finely ground powder
SERVING SIZE                   15g (3Tbsp)
Calories                                    110
Sugar                                         1g  
Protein                                      1G
Cholesterol                             0mg  
Carbohydrates                         2g
Fiber                                          1g
NET CARB                                1g
Brand                                  Nature's Eats
Weight                                  16 Ounces
Allergen information          Tree_nuts
Main ingredients                Pecan Flour
Nature's Eats is famous for natural, minimum processed products that offer chefs and snackers a new way to experience nature's rich foods. 
For three generations the band explored the world, partnering with the noblest growers and farms to sell quality natural nuts, snacks, and baking ingredients.
It is ideal for gluten-free baking, shakes, and bread. This keto-friendly flour is one of the best flours you are looking for.
✓ Gluten-Free and Keto-friendly
✓ Finely ground
✓ All Natural
✓ Non-GMO Project Verified
✓ stabilizing blood sugar
Θ The presence of pecan shells with nuts may disturb you
SERVING SIZE                         28g (1oz)
Calories                                          111
Sugar                                               2g  
Protein                                            5g
Cholesterol                                    0mg  
Carbohydrates                              17g
Fiber                                               10g
NET CARB                                       7g
Brand                             Foods To Live
Weight                             1 Pounds
 Allergen info               Tree Nuts and  Wheat
Main ingredients       Organic Coconut
"Food To Live" aims to better itself every day, growing product range and improving healthy food services to assure every customer gets the highest level of care.
Many people's health doesn't allow the use of grains. For such people, organic coconut flour can help. It contains all essential vitamins and minerals too and is a good source of lauric acid that supports strong immunity and thyroid health. Amazingly it is naturally free of gluten, so it is an ideal option for people who are looking for a gluten-free diet as well as keto.
Enjoy it for baking sweet and savory cakes, pastries, and bread. Store in a dry and cool place and essentially after opening the pack.
✓ Certified Organic Product
✓ Zero in cholesterol, low in sodium
✓ Rich in Iron, good source of Protein
✓ Kosher, Non-GMO, Vegan Organic, Raw, Unrefined
✓ Comprising a significant amount of dietary fiber, help in removing toxins and waste
✓ Unsulfured Fine Powder
✓ a low glycemic food, good for diabetics and weight watchers
Θ Low in net carb but contains more carb than other products added here.
Best Flour For Keto Bread-Making?
Coconut flour is produced using the extras of coconut milk, which is wealthy in fiber and takes after wheat flour on its surface. Note that coconut flour retains dampness and fluids without any problem. It can absorb a lot of oil and eggs, so you may have to adjust certain plans to abstain from wrecking. Other ideal flours are made using almond, chickpea, etc.
Here we have added quick information on various flours that are considered ideal for making keto-friendly bread.
1: Is almond flour keto-friendly
Yes, almond is highly keto-friendly flour and will be your top choice for baking because it's low-carb, high in fat, moderate in protein, and has great flavor and texture
One ounce (28 grams)
Calories

:           163

Protein

:              6.1 

Fat

:                     15 g

Carb                   

5.6 g

Fiber

:                   3 g

Sugar

:                 1 g

Net Carbs:

          2 g
2: Is coconut flour keto-friendly
Yes, it is fitting for the keto diet. It Is an ideal keto flour since it is: low in carbs and high in fiber. cheap, as low-carb flours go.
1/4-cup (30-gram)
Calories:           120

Protein:             6 g

Fiber:                10 g

Carbs:               18 g

Sugar:                6 g

Net Carb            8 g
3: Is chickpea flour keto-friendly
Not Highly recommended but can be use for the keto diet with some daily portion adjustment.
1/4-cup (30-gram)
Calories

:           120

Protein:             6

g

Fiber:               

10 g

Carbs:              

18 g

Sugar:              

 6 g

Net Carb            8g
4: is corn flour keto-friendly
No, It's essential to remember that one half-cup serving of cornstarch incorporates more than 58 grams of net carbs. This implies even a quarter-cup of this thickener is sufficient to show you out of ketosis.
One cup of Corn
Calories       4

88

      
Protein           

0 g 

Carb               

117 g

Fiber             

2 g

Net carbs     

115 g
Is Keto Flour Healthy

?
In simple words, starting the journey of the keto diet means you eat everything except take out each type of starch and eat fat in its place. 
The best way to do it is to replace all-purpose flour with low-carb flour that is suggested more often to be used to turn the body into the state of  "ketosis". The biggest question raised in the mind of beginners is whether using low-card (keto-flour) is healthy or not? 
Many flours can be used as a replacement of the mainstream all-purpose flour such as flours of almond, coconut, chia seed, hazelnut, and lastly chickpeas (preferred last because it still has a high content of carbs as compared to other suggested flours).
Almond flour is wealthy in monounsaturated fat, which can help monitor cholesterol. A showed that ladies who burn through 50 grams of almond flour have lower cholesterol than ladies who don't. 
A keto kitchen must-have is almond flour, which has many benefits and is full of calcium, iron, magnesium, manganese, and potassium. Additionally, it imparts a nutty flavor as well as a moist, slightly dense texture to baked goods.
It is important to note that almond flour contains different amounts of macros, so look for brands with fewer than 10 net carbs per cup. Thatswhy our added reviews are very valuable for you.
It is no wonder that coconut flour is a favorite among low-carb and keto communities. Naturally gluten-free and hypoallergenic, this ingredient is incredibly healthy, low-carb, and versatile.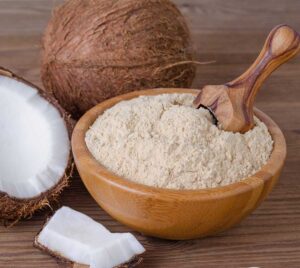 In addition, it is a grain-free and allergy-friendly flour. Thus, baking with this gluten-free flour is ideal for anyone sensitive to nuts and gluten.
When you cook with coconut flour, you will need to use more wet ingredients in the recipe, since coconut flour absorbs more moisture.
Other healthy nut-free alternatives are sunflower seed flour and pumpkin seed flour.
Enjoy these two amazing ketogenic flour recipes
1: Keto Bread made with almond flour and low carb cream cheese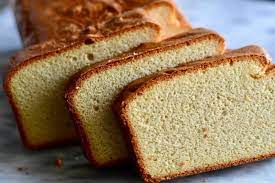 Ingredients
Measured and sifted 1 14 cups almond flour

4 tbsp unsalted butter at room temperature

1 tbsp sugar substitute

3 ½ oz full-fat cream cheese room temperature

4 eggs

2 tsp baking powder

1/2 tsp of sea salt
Instructions
Set the oven to 350 degrees Fahrenheit

Sift and measure almond flour.

Mix almond flour, baking powder, and salt in a medium-sized bowl. Set aside.

Combine the butter and sugar substitute in a large bowl with an electric mixer on high speed until the mixture is light and fluffy.

After that, add the cream cheese at room temperature and mix well with an electric mixer.

The eggs should be added one at a time, mixing well after each addition with an electric mixer set on medium speed.

Then add the almond flour, baking powder, plus salt, and mix well with the electric mixer on low until the batter is thoroughly combined.

To bake the bread to a golden brown on top, grease an 8-inch loaf pan well and bake for 30 to 40 minutes. The bread is done when a toothpick inserted comes out clean.

Before cutting, allow the bread to cool on a baking rack for about 10 minutes, then remove it from the pan and allow it to cool fully.

For up to seven days, you can store your keto cream cheese bread in the refrigerator, or you can freeze it for up to 30 days.
2: Yummy keto pasta recipe using keto-friendly flour
Ingredients
2/3 cup (80g) Vital Wheat Gluten
1/2 cup (60g) keto-friendly Flour
2 large eggs, beaten
1/2 tsp Xanthan Gum1/3 cup (70g) keto-friendly Semolina
1 tbsp Extra Virgin Olive Oil
4.5 oz (135g) Water
2 tsp Salt
To make this, put all the dry ingredients in a bowl, along with the xanthan gum, salt, and vital wheat gluten. Whisk together. In a bowl, beat 2 eggs. Pour the oil into the cup and mix with the water. Fill the stand mixer bowl with the dry ingredients. Put the mixer on speed 2 and pour in the oil-water mixture and beaten eggs.
Once all ingredients have been incorporated to form a dough, switch to the dough hook and knead for 7 minutes. After kneading for a few minutes, the dough may need to be reformed into a ball.
The dough needs to be divided into two pieces, shaped into rectangles, then rolled into thin sheets. Roll out the dough using the pasta roller to a thickness you prefer. Use a fettuccine cutter or spaghetti cutter to cut your dough into the length of your noodles.
Pasta in this state is ready for cooking. Depending on how you like your pasta, boil it in salted and oil-coated water for about 3-5 minutes.
Furthermore, if you want to cook the pasta the next day, you can also let it dry overnight. After it's dried, you'll need to boil it for ten minutes. This is by far the best method and provides the best texture.
For more guides regarding keto bread and pasta recipes visit the best Keto cookbooks reviews.
Verdict
The most common flours used for baking are almond flour and coconut flour, and high fiber additions such as chia flour, flaxseed meal, psyllium husk powder, and oat fiber can be used to improve the texture and taste of baked goods. All suggested keto flours are healthy and keto-friendly.
With these keto flour substitutes, you can enjoy your favorite bread, desserts, pasta, crackers, and breaded foods without having to cut back on carbs.
FAQs
Q1: Which flour has the least carbs?
Ans: Almond flour, the most ordinarily known and utilized nut flour – is accessible in most supermarkets and moderately easy to utilize when supplanting high-carb flours. Because of its high-fat substance, and absence of gluten, you may require extra eggs or rising agents to give it a holding structure.
 Q2: Which is better for keto almond or coconut flour?
Ans: Like wheat flour, coconut flour has more carbs and less fat than almond flour. It likewise contains fewer calories per ounce than almond flour, yet almond flour contains more nutrients and minerals value, so almond flour is better and mostly suggested to be used during the diet.
 Q3: What can I substitute for almond flour in macarons?
Ans: Pumpkin seeds are a good substitute for almonds or almond flour in the making of macaron, consistently in an equal proportion. Make your pumpkin seed flour by crushing the seeds in a food processor until fine-textured.
Q4: Is coconut flour healthy?
Ans: Unlike wheat flour, coconut flour contains no gluten. Contains fiber and MCTs, which may promote stable blood sugar, good digestion, and heart health. As well as boosting weight loss, it may also fight some infections. In addition, it's tasty and versatile, making it a good choice when looking for alternatives to flour.