The keto diet doesn't mean giving up pizza. An almond flour base, egg, and seasonings are baked to make a crisp, tasty pizza. Those who enjoy crispily, thin-crust pizza will appreciate this!
You're going to fall in love with these crispy-chewy pizza crust recipes if you're following a keto diet. 
Click For Related Articles And ReceIpies
Keto Bread Recipe With Mozzarella Cheese
Keto Cake With Protein Powder/simple protein cake recipe
1: ALMOND FLOUR PIZZA CRUST Recipe  
This almond flour pizza crust is easy to make with only a few ingredients. Below is a recipe card with exact measurements.
INGREDIENTS
Shredded mozzarella cheese, 1 1/2 cups (170 g)
Two tablespoons (30 ml) of cream cheese, sliced or cubed
Beat 2 large eggs (2 large)
Approximately 1/4 cup (30 g) almond or coconut flour
2 teaspoons (2.5 ml) of garlic powder
1/4 teaspoon onion powder (1.25 ml)
1.25 grams salt (1/4 teaspoon)
1/4 teaspoon fresh cracked black pepper (1.25 ml)
TOPPINGS:
1/3 cup (80 ml) pizza sauce, sugar-free bbq sauce, or alfredo sauce
1/2 cup (57 g) cheese (shredded mozzarella, blue cheese, feta, or parmesan)
OPTIONAL TOPPINGS
thinly sliced mushrooms, tomatoes, onion, veggies, or spinach
pepperoni, pre-cooked bacon bits, or pre-cooked crumbled sausage
INSTRUCTIONS 
The oven should be preheated at 425 degrees F/220 degrees C. Prepare a baking sheet by lining it with parchment paper and oiling it lightly.
Combine mozzarella cheese and cream cheese in a microwave-safe bowl. Stir after about 30 seconds, then microwave for another 30 seconds until combined.
The remaining ingredients (beaten eggs, almond flour, onion powder, garlic powder, and salt) should be well combined before adding to the yogurt. Make a dough by lightly kneading the mixture and oiling your hands. 
Flatten the dough with a rolling pin or your hands on the parchment paper. Roll the dough to about Roll out the dough to a thickness of about 1/4 inch (6mm).less throughout the dough.
Bake for about 8 minutes and poke the bubbles that may form. The crust should also be golden brown after additional baking for 10-14 minutes.
If you want to add toppings, let it cool for about five minutes. Put the pizza back in the oven, and bake for 7- 10 minutes more or until the cheese has melted and toppings have browned.
calories: 295kcal, carbohydrates: 5g, Protein: 19g, Fat: 23g, saturated fat: 11g, cholesterol: 161mg, Sodium: 667mg, potassium: 162mg, Fiber: 1g, sugar: 2g, vitamin a: 764IU, vitamin c: 1mg, calcium: 354mg, iron: 1mg
2: FATHEAD PIZZA CRUST RECIPE (LOW CARB KETO PIZZA) – 4 INGREDIENTS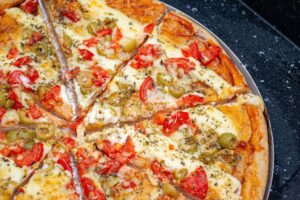 In contrast To other pizzas, Fathead pizza is well familiar as Keto-friendly Pizza. The flour used for making its dough is gluten-free and low in carbs. Other ingredients are mozzarella, egg, cream cheese.  
The super-easy recipe has a texture similar to real pizza. 
Ingredients:
3/4 cup almond flour
2 tbsp cream cheese
1 egg
1 1/2 cup mozzarella
Process:
Whether you make it with almond flour or coconut flour, the process for how to make fathead pizza is very similar. There are 3 basic steps:
Out of Almond flour and coconut flour, it doesn't matter, what you prefer. Both will result in the same yummy taste. Follow three basic steps. 
You can melt the mozzarella and cream cheese together in the microwave, or a double boiler on the stove.
Again you have an option. Melt mozzarella and cream cheese together in the double boiler on the stove or simply in a microwave.
Must thing is fathead pizza dough to be uniform. For this purpose better to use a food processor, otherwise, apply your hands and finger power to knead until uniform.
Now roll this dough or form it into a crust then finally bake and enjoy.
3: Keto Pizza In Using Unflavored Whey Protein Powder And Almond Flour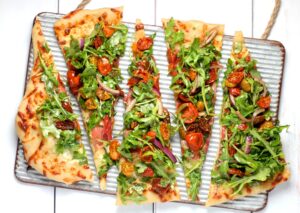 It is the ingredients that make the crust so good. In contrast to fathead pizza crust, this keto pizza crust does not contain cheese.
INGREDIENTS
1 ½ cups (168g) Kirkland's Blanched Almond Flour
½ Tsp Baking Powder
2 Tbsps (15g) Coconut Flour
½ cup (125g) No Sugar Added Pizza Sauce
⅔ Scoop (20g) Unflavored Whey Protein Powder
½ Tsp Xanthan Gum
Pinch of Salt
Tiny Pinch of Garlic Powder
Tiny Pinch of Onion Powder
2 Eggs
INSTRUCTIONS
Set your oven to 425 degrees.
Measure out the dry ingredients to the gram and can use a food scale.
Then Mix well.
Combined with the coconut oil, add the eggs to the bowl with the coconut oil.
Then, use a spatula to combine and mix the ingredients to form a dough ball.
Put a large sheet of parchment paper on the work surface after the dough has become smooth and the yolks have dissolved.
Put the ball of dough on top of the parchment paper, and cover with another large sheet.
Roll out the dough to a diameter of about 14 inches.
Roll up the edges of the dough to form an outer crust once the dough has reached 14 inches.
By now, the crust should be about 12 inches in diameter.
The crust (with the parchment paper underneath) needs to be put on a pizza tray and baked for 3 to 5 minutes after it looks good.
If you are using protein powder, cook it for 3 minutes.
If you are not using protein powder, wait 5 minutes.
After it's been baked, you can add the sauce, cheese, and toppings of your choice.
FAQs
Q1: What is a good substitute for pizza crust?
Several excellent substitutes are available. They can be categorized as follows: alternative flours (almond flour and coconut flour), meats (meat crusts and chicken crusts), and vegetables (a cauliflower pizza crust).
It is difficult to select one over the other since each has its own merits. Ultimately, it comes down to personal preference.