Since keto has so many benefits, you won't be surprised to find famous athletes, models, and celebrities happily following a keto diet.
Weight loss, hormonal balance, better mental and physical performance can all be gained from following a ketogenic diet.
While it may seem complicated initially, a Keto diet is rewarding to follow and leaves you satisfied. Let's find out how famous athletes view keto, and how should you follow this fast-emerging diet.
Suitable keto macros for athletes
The ideal ketogenic diet has high fat (more than 70 percent of daily calories), moderate protein (0.5 to 0.9 grams per pound of body weight per day), and low carbs (around 50 grams daily).
According to the American College of Sports Medicine (ACSM) and the American Council on Exercise (ACE), much of your daily calorie intake should come from carbohydrates, between 45% and 65%. High-intensity athletes may need carbohydrates in the range of 60% to 70%.
You should also time your carb intake strategically. Before and after exercising, consume them to help your body adapt to and recover from activity. To see how low carbs affect your performance, you may need to experiment with reducing your carbs modestly before going all-out keto. 
Below, you will find an interesting collection of stories from a few famous and professional athletes who have tried the Keto diet.
Kobe Bryant, NBA Superstar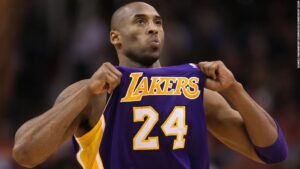 Kobe Bryant is an iconic basketball player who stands tall among all-time greats.
He played professional basketball for the United States. Throughout his 20-year career, he played shooting guard for the Los Angeles Lakers of the National Basketball Association (NBA). Besides winning five NBA championships and being a 15-time All-Star, Bryant was a 12-time All-Defensive Team member. He was also a two-time NBA Finals MVP and led the league in scoring twice. 
A huge fan of the keto diet, Kobe Bryant eats a high-fat, low-carb diet. Having constant energy is one of the reasons he believes the keto diet gives him an edge over his opponents.
LeBron James and Kobe Bryant share the view that a healthy diet is important to achieving optimum performance, which is why Kobe Bryant stopped playing around with his eating routine.
Almost the entire Lakers team jumped on the Keto bandwagon. Several of Bryant's staple foods include eggs from unfenced chickens, as stated by their coach. Sugar, especially corn syrup, must be avoided, and starches should be restricted based.
The Lakers coach said that Kobe is probably the most tenacious opponent he has ever dealt with. As well as before and after actions, he takes his body and his readiness seriously. In addition to the diet, this also involved ice showers and different stretching techniques.
Lebron James 
NBA Superstar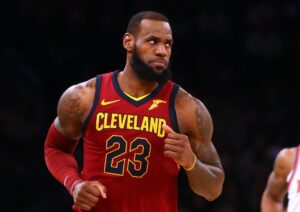 After skipping college, LeBron James joined the Cleveland Cavaliers and became an instant star. Before joining the Los Angeles Lakers in 2018, he won championships with the Miami Heat in 2012 and 2013. His second title came with Cleveland in 2016.
Wade follows the ketogenic diet to stay in excellent shape. His diet and training routine do not include sugar, dairy products, and carbohydrates.
The ball genius LeBron James shed weight while focusing on a ketogenic-style Paleo diet one summer. For two months, his keto athlete meal plan contained no sugar, dairy, or carbs.
His diet was dominated by fish, veggies, meat, and a natural product. However, most organic products aren't regularly ketogenic, but James included olive oil with lemon vinaigrette dressings as well as solid fats.
Even at Tim Tebow's wedding, there were keto-friendly dishes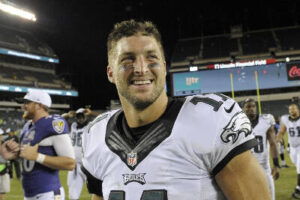 Tim won the Heisman Trophy in 2007 after helping the Florida Gators win two BCS championships. Then in 2016, he signed a minor league contract with the New York Mets after working as a television analyst.
Tim Tebow would not give up his ketogenic diet even on his most important day. At his wedding, he served many keto-friendly dishes, including his favorite salad.
The pro football player swears by the keto diet and loves its healthy fats. Approximately four avocados a day are his favorite fat source!
According to Tim, a ketogenic diet involves eating a lot of healthy fats, a moderate amount of protein, hardly any carbs, and no sugar. 
"Often people think that's boring, and it can be, but there are ways to spice it up," he says.
He further added, "It is among the very basic dietary habits that I consume a lot of aquatic or flying foods; I consume an excessive amount of greens, Greek yogurt, and avocado. Eggs are part of what I eat, whether they're in an omelet with spinach, bacon, and sausage, or in a scramble with avocado."
Throughout the day, he must have sparkling water-particularly La Croix-and plain Greek yogurt. Beyond that, he likes lean meats, including chicken, steak, tuna, spinach, and avocados. Guacamole is a favorite as well. 
Famous Athletes Brendon Love Keto A lot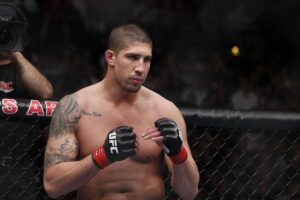 The Fighter and the Kid podcast host, Brendon Schaub, is one of the most outspoken supporters of the keto diet. He explains "Following a ketogenic diet means, consuming few carbohydrates and a high level of healthy fats."
Fitness is not a problem for Brendan Schaub. He is no stranger to pushing himself to the limit. Following a 10-win career in the UFC, Schaub hosts the popular podcast Fighter and the Kid with comedian Bryan Callen. 
Look what he says,
"I've been following this Ketogenic diet for a short while now. It has improved my overall health. People want physical changes, but mentally, it's been crazy! Now I'm able to do shows, podcasts, live shows, fan meet-and-greets, and workouts without feeling tired or mentally worn out. This is not an advertisement. Since I've been an athlete for over 20 years, I've tried every diet you can imagine. For me, keto was something that changed my life."  
Avocados, butter, olive oil, coconut oil, red palm oil, peanut butter, and Olive oil are some of his choices for healthy fats. Protein sources include wild fish (such as salmon, tuna, trout), shellfish, poultry, and meat (such as beef, lamb, and veal).
But is Keto Diet suitable for All Athletes?
Hmm, we've heard good things about the keto diet from some athletes, but be careful. For athletes, diet experts' suggestions are worthwhile to know.
Ketogenic diets might work better for endurance athletes, such as marathon runners and long-distance cyclists, than for players who use bursts of energy.
After a period of adaptation, a ketogenic diet appears to have benefits for endurance athletes, says Dr. Clifton Page from the University of Miami Miller School of Medicine.
Page notes that following a ketogenic diet will require several months to switch from carbohydrates to fats.
Because insulin aids muscle growth, it was previously assumed that you couldn't build muscle on a low-carb diet. However, recent studies suggest that a keto diet may allow you to gain strength and muscle while burning fat.
The ketogenic diet is not a high-protein diet, however. An excessive protein diet can interfere with ketones' formation. When glucose isn't available, the body can use these ketones as an alternative fuel source. Ketones are produced when fats are broken down.
Jeff Volek, Ph.D., assistant professor of human sciences at The Ohio State University, and a leading researcher on carb-restricted diets, said that athletes on a high-carb diet become dependent on glucose as their main fuel for exercise.
Glucose is stored as glycogen in the body. Volek however said the body only stores enough glycogen for just a few hours of fast-paced exercise or about one day.
"This is why athletes on a high-carb diet need to consume carbohydrates steadily "to keep the small-carb fuel tank from running dry," he said.
It is also likely that the keto diet won't benefit people who do high-intensity exercises like spin class, tennis, sprints, and CrossFit since these activities are carb-based.
Furthermore, for those athletes who need to eat a certain amount of calories to maintain all of their physical activity, the keto diet can be detrimental. 
You may wind up in a deficit of energy, unable to recover effectively, and not progress in your fitness, for example, if the diet suppresses your appetite and makes you eat less.
 Verdict
keto doesn't allow for bursts of energy since you are constantly depleting your glycogen stores. This isn't ideal for people who play basketball or football.
However, if you're interested in endurance sports, like running and marathons, a ketogenic diet can be beneficial because it helps the body run off fat more efficiently. It helps because after about an hour your glycogen stores are completely depleted. On keto, there is no bonk. But, you're not as fast on short distances.
Furthermore, continuing to consume carbs such as energy drinks and gels will prevent the body from switching to using ketones as fuel.
To get the most out of keto, as depicted by many professional and famous athletes, you should eat a variety of meats, nuts, avocados, olive oil, dairy products, and fruits and vegetables rather than rely on keto bars, shakes, desserts, and ketogenic coffee.
Since it takes time to adapt to keto and in the first week you may experience the keto "flu," it's not a good idea to embark on the plan right before an event, competition, or race