Wow! look, we examined famous celebrities' weight before and after they started the keto diet, as well as what they used to think of it. The transformation is remarkable. Although the ketogenic diet has been around for some time, its recent popularity is due to the many celebrities who now endorse it.
A celebrity approval can be useful, but anyone serious about fitness wants to see results before making significant dietary changes. 
Weight loss may not seem difficult when you're aiming for a loss of five or ten pounds, but when you're aiming for 30, 40, or even more, weight loss can become challenging. 
The argument may go that celebrities have all the resources available to them, and that is true but they must still work to lose weight in the same way you do. What if you borrowed their star-powered suggestions and made them part of your daily routine? A lot of celebrities have posted amazing transformations from following keto, including Jenna Jameson, Vinny Guadagnino, and Alicia Vikander.
Alicia Vikander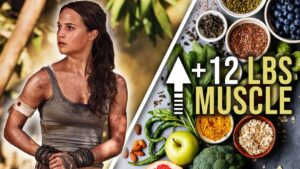 Her role as Lara Croft in 2018's Tomb Raider transformed her from a former ballerina to a fearless adventurer. Her trainer, Magnus Lygdback, worked with her nearly every day for seven months to get her in superhero shape for the role. Because it's easy to follow while traveling, they decided on the keto diet early on for her Lara Croft diet.
Lygdback told, "As we traveled a great deal over the holidays, we decided that a keto diet would be more suitable to control our macronutrient intake." "It was a diet high in fat and low in carbohydrates. Although the first few days are tricky, [Alicia's] willpower is just unbelievable, and she didn't complain despite looking a little tired."
What Alicia Eat On Keto: Her Keto diet involved five meals, plus two snacks after lunch and a morning snack. Her snacks consisted of protein shakes or octopus salads, while her meals mainly consisted of fish, vegetables, and nuts (low carb pistachios, cashews, peanuts). 
Vanessa Hudgens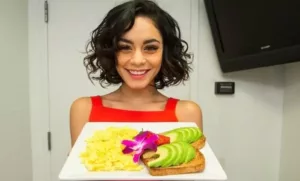 Following a keto diet and attending SoulCycle classes helped Vanessa Hudgens lose 20 pounds in 2017. Hudgens didn't expect to lose the weight she gained while filming Gimme Shelter in 2013. Keto proved to be easier for her than she expected.
She points out that you don't need to count calories as much as you think. "Think about eating things that will give you energy and fuel. Fats are not to be feared. It's okay to eat bacon. It's okay to eat avocado. Your body will benefit from it and you will have plenty of energy throughout the day."
What Vanessa Hudgens Eats on Keto: Her fast lasts 18 hours and I eat for six. To get all her nutritional needs, she eats greens, fats, and omega–3s. Fish is my favorite food; I don't eat meat.
Lebron James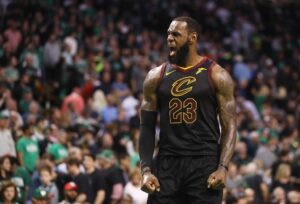 A Los Angeles Lakers player, LeBron James represents the United States in basketball.
Being his big fan, can you recall the first time you saw a photo of "Skinny Lebron" on Instagram back in 2014? Despite never using the term keto, Lebron James helped make that happen.
He is one of your favorite celebrities to whom you have noticed a big weight change because of the keto diet. In those days, the keto diet was mostly unknown to the public, and James called his dietary change "a mental challenge."
What James Eats: James ate only meat, fish, fruits, and vegetables for 67 days. A Mykonos restaurant even offered him a custom–made cake. James' diet was perhaps too strict for the average person and not well suited for them. The NBA player made the right decision to limit his keto diet to just 67 days since the keto research is still ongoing and it was never meant to be a long-term dietary solution.
Halle Berry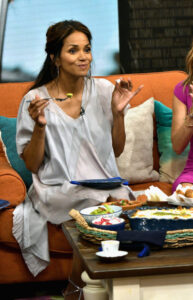 Hollywood actress Halle Berry is known for her roles in Catwoman, Monster's Ball, X-Men, and its sequels. Cleveland, Ohio, is where she was born in 1966.
Amazingly, it's have been over 30 years since Halle Berry said she has been on a ketogenic diet
Berry has a killer body, that's for sure. She credits her hard-working physique to both challenging gym sessions and a keto diet. 
Her incredible body helps her stay in great shape with keto. "I love the keto lifestyle because it makes me feel great, loses weight, and controls my appetite," Halle Berry said. During her 22 years, she was diagnosed with type 2 diabetes, for which she relies on a diet to maintain control.
What she eats: Fruits and vegetables are Berry's favorite snacks. Celery and cucumber slices are among her favorite raw, organic veggies. She always has lots of cut-up vegetables available, which is excellent because the kids love to snack on them as well.
In addition to fats, Berry says she also eats avocados on her plate.
Vinny Guadagnino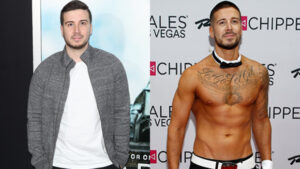 One of the smartest celebrities, also famous as Keto Guido, was raised in the Staten Island borough of New York. He is one of the most prominent Keto converts and supporters. The last time Guadagnino was seen on MTV, he was much more ripped than he had been before.
For several years, Guadagnino has kept lean and muscular with the Keto diet. Guadagnino achieved his objectives by "turning the traditional food pyramid on its head and finding a way to eat that was enjoyable, satisfying, and healthy." Guadagnino's goal was to create a diet-free lifestyle.
He has also been featured in Men's Health Magazine numerous times for advice on his keto diet, which he has used to lose 50 pounds. Moreover, he launched a keto-related Instagram account.
Vinny takes on keto: His morning ritual consists of drinking water and having an espresso before working out
The majority of his diet comes from plant and animal fats, he gets moderate protein, very little sugar or carbs, and he rarely sees a pharmacist.
Kourtney Kardashian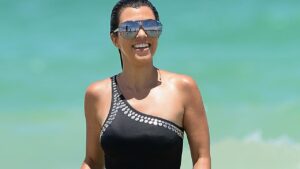 A media personality, socialite, and model, Kourtney Mary Kardashian (born April 18, 1979) hails from Los Angeles, California.
It's not for everyone, but the ketogenic diet has won Kourtney Kardashian's heart.
She makes sure her children Penelope, Mason, and Reign eat organic almost all the time.
Kim Kardashian shared her firsthand experience with a high-fat, moderate-protein, and low-carb diet known as "keto" on her app. She recently revealed that she weighs 98 pounds and that she's tried the diet.
According to Kourtney, a keto diet reduces sugar cravings and burns excess fat and there is no need to starve yourself.
Kourt prefers to eat: Kourt initially advertised the diet on her app in 2017. According to her, she ate grilled chicken and fish over rice, spaghetti squash, and cauliflower rice during her keto diet. Her current diet is a means of "detoxing" and curbing sugar cravings.
Kim Kardashian cut out most carbs, including grains, beans, and legumes, and substituted fresh vegetables and lean proteins.
She further explains, "Whenever I felt like I was not eating enough carbohydrates, I made broccoli rice or cauliflower rice. Then I would add protein to the plate, so I would have grilled chicken or fish with broccoli rice, cauliflower rice, or spaghetti squash. I made smoothies with avocados and bananas, fresh salads with homemade dressing, and roasted vegetables."
Melissa McCarthy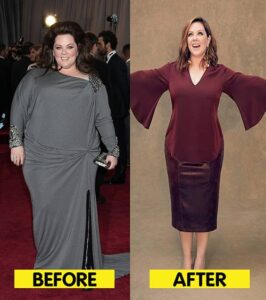 A star of television and film, actress, comic, producer, writer, and fashion designer Melissa Ann McCarthy (born August 26, 1970) is an American actress and comedian. 
Melissa McCarthy's astonishing transformation via the keto diet is still the best weight loss of Hollywood celebrities, according to a survey. It didn't matter to Melissa, who was 50 years old, that she lost weight for her roles in popular TV series like "MICKE AND MOLY" and "GILMORGANS".
By taking up martial arts and going keto, this woman lost 75 pounds. However, Melissa McCarthy doesn't seem to want to talk much about her figure. According to her, as long as everyone's healthy, they should enjoy and embrace their body type.
As part of her weight loss, she chose martial arts as her exercise of choice. Diets high in fat and low in carbohydrates are ketogenic, as well as moderately high in protein. As such, martial art and the keto diet make an ideal weight loss pairing.
Melissa McCarthy when on keto: She consumes healthy fat from Chia seeds, avocado, and almond milk, and protein from chicken breasts, turkey breasts, hummus, and eggs.
The healthy carbs that she recommends are vegetables, fruit juice, quinoa, and vegetable juices.
Keeping her body hydrated and avoiding sugar are her priorities. For weight loss, drinking lemon water frequently is very helpful.
Jenna Jameson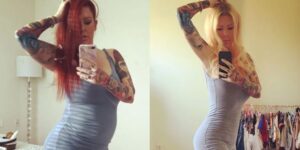 Keto-loving Celebrities like Jenna is always active on Instagram to guide their followers.
Keeping her fans up-to-date through Instagram, Jenna Jameson announced at the beginning of November that she had officially lost 80 pounds with the keto diet.
She Eats: She drinks coffee in the morning around 8 a.m. She ends her fast around 11 a.m. "That's it!" she exclaimed. I don't believe in magic or fancy diets… "I eat only clean, whole organic foods," she said. Almost a decade ago, I waved goodbye to any kind of processing or packaging.
Al Roker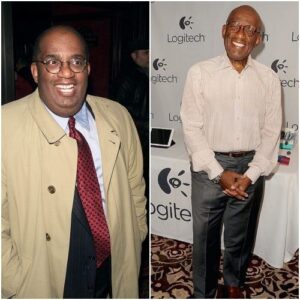 The weather anchor may appear goofy and "nothing special," but he has earned a position as one of the most visible on television because of his accurate forecasting and warm, casual delivery.
Lately, he's become known for praising the ketogenic–or keto–diet, as the secret to helping him look and feel great. Roker took up the high-fat, low-carbohydrate plan in September, according to a Today show segment. By limiting carbs, your body enters ketosis, or a fat-burning state, which helps people lose weight.
Everyone's favorite weatherman is a keto fan as well. On the TODAY Show, Roker said that the keto diet works well for him and he feels much better since he started following it. He famously defended the diet on social media after Jillian Michaels criticized it.
He eats: He no longer consumes alcohol, caffeine, dairy, sugar, or gluten. He lost one pound per day during this time.
In his diet, he now consumes whole foods only and avoids processed and unnatural foods.
Low carbs and high protein are the staples of his diet.
As a result, he keeps track of portion sizes and eats plenty of salads, meat, smoothies, legumes, and plenty of vegetables.
In Short
Nowadays, everyone is talking about the ketogenic diet. Ketosis is a fat-burning state created by eating a lot of fat and very few carbohydrates.
Even though this eating plan is nothing new. But the keto has become more mainstream in recent years, thanks to movie and television celebrities. Even Vinny Guadagnino and Halle Berry have chosen keto to stay thin and feel great. LeBron James has also tried it.
Ketogenic lifestyles have caught on with some of our favorite famous faces because it keeps them feeling healthy, energized, and satiated. To stay healthy, it's important to get enough protein and healthy fats throughout the day, but, as these celebrities will probably tell you, a little goes a long way.