The largest platform to shop and pleasure for me is Amazon. On bed doing window shopping, then ordering the favorite one is such amazing air. And while on the keto diet all must-haves have been managed easily via Amazon.
Not only keto-friendly products but also the other essentials for the purpose are easily available there. We hunted the best keto tools and utensils, you must add them to your kitchen.
Why measuring tools are important for the keto diet
Measuring is not just for maths. It plays an essential role in our daily lives and helps the kitchen cook a well-prepared meal. Measurements not only help in cooking but play a vital role in baking. Since the recipe explains the number of ingredients needed, for which we can use our measuring tools.
Tablespoons and teaspoons are used to measure small amounts of ingredients like herbs, salt, baking soda, etc. Dry measuring cups are used to measure out larger quantities of ingredients like flour and sugar. Liquid measuring cups are used to measure out large liquid ingredients like milk and oil. 
These were some of the primary uses in our daily lives, and we kept the keto diet in mind. The diet is all about measured portions and limited intake with calculated amounts of calories and food. Therefore, measuring tools are essential as a limited amount of extra food intake can leave your body out of ketosis. As a result, all the efforts made can go to waste easily.
1: Portion Control Serving Spoons (6-Piece Ladle Set)
These are portion control spoons with a 6 piece ladle set containing 1/4cup, 1/2cup, 3/4cup & 1 cup. It is a must-have for keto from amazon
Both home and institutional use can benefit from a set of portion control ladles. Measure and serve food with ease with this 6-piece set. These are available both in regular and slotted styles. Also suitable for baking and food preparation.
You can use them for Serving and measuring soups, stews, rice, potatoes, vegetables, and pasta. Buffets and cafeterias can use it, but dietitians and weight control specialists also find it extremely useful.
Stainless steel.

Multi-colors are available.

Length 13-15 inches.

Restaurant quality spoons.

Best for portion control for individuals on a diet.

Recommended for patients with healthcare problems.
2: Livliga LivSpoons, Portion Control Serving Spoons with Measurement,
These are a set of measuring spoons with portion control measurements on them. The double bend handle allows for it to hang comfortably and cleanly on the edge of nearly any pot or bowl either right-side-up or upside down.

LivSpoon can be used whenever you want to know the amounts you are measuring or serving in the kitchen, for a recipe, an elegant buffet, or at a summer picnic to promote.
Now you can easily measure the keto snacks you prefer to eat on the keto diet. It is easy to estimate how many keto-friendly snacks (pistachio, peanuts, almonds, cashews, fruits) you must consume per day. It has :
6 standard size serving cups including ⅛ cup, ¼ cup, ½ cup, ½ cup, and ¾ cup.

Has an elegant design to it.

It is multi-purpose.

Being Eco friendly makes it more appealing.

Stainless steel and dishwasher friendly.
3: Control Kitchen Measuring Cups and Spoons Set 11 Piece.
This set is a must-have and has a high rank on Amazon. Working in the kitchen looks very exciting with colored handles. I especially like the nesting option for storage.

You would like its heavy-duty stainless steel rack, made of high-quality, rustproof, mirror-polished stainless steel, which is non-toxic and 100% safe to use.

The engraved measurement markings on each cup and spoon will not fade and are easy to read. Furthermore, the quality of the handles is too good. It includes:
A set of 10 measuring cups, a set of spoons, and a plastic measuring cup for both wet and dry ingredients.

Stainless steel.

They are colorful.

Can be used for both wet and dry ingredients.

It comes in multiple sizes so that it is easy for an individual to control intake portions.

They are durable.

Easy to clean as they are dishwasher friendly, and recommends washing glass measuring cups to wash with hands.
4: Circulon Total Nonstick Bakeware Set4:
Being on a diet means having to try out new things to add to the diet. It is a lifestyle change, not just an eating routine. 
For a beautiful, long-lasting baking performance, this bakeware set is made of heavy-gauge steel with rolled rims for a warp-resistant, rust-resistant finish.
The nonstick coating is dishwasher safe, but hand washing is recommended. It has a chocolate brown color that promotes superior food release.
Circulon's innovative nonstick technology and solution-driven design set it apart from other nonstick bakeware. The technology consists of evenly spaced raised circles on a nonstick baking surface that is free of PFOAs. Wahoo!
This bakeware set is a must-have. It includes:
5: KitchenArt Professional Series 2 Cup Adjust-A-Cup
It is a measuring cup. It might be new to many people. A patented form with an award-winning design, this unique measuring tool is made of durable ABS and SAN plastic.
This keto measuring cup makes it easy to measure liquids, dry ingredients, and semi-solid ingredients. Using only one convenient measuring cup, you can easily measure liquids, dry, and semi-solid ingredients.
With this flexible measuring cup, you can measure liquids, dry ingredients, such as honey, peanut butter, and shortening, as well as semi-solid ingredients like butter and shortening. Pints, cups, ounces, and millimeters are conveniently marked, so you can easily double or convert. 
Put your ingredients in the plunger and pull it down to the desired measurement. Use a sponge and warm, soapy water to wash the Adjust-A-Cup.
It has a printed measurement on the cup.

Can be used for any ingredient.

It is adjustable.

It is made out of food-friendly plastic.

Has an elegant satin finish.

Consumes less space on the counter.

Has the capacity from ⅛ cup to 2 cups.

Easy to use.

Washing with hands is recommended.
6: Mackie Food Scale, Digital Kitchen Scale
You can see the nutritional values of all your food and keep a running total for each day. If you want to lose weight quickly, this can help you. Calories, net carbs, fat, sodium, protein, cholesterol, and fiber intake can be tracked automatically.

Placing the food on the scale and typing the food code is easy. You should hear a beep after you power on the scale and touch the unit button. Once this is done, the units on the LCD will change. Keep pressing the "Scale Units" button until the screen shows the units you want.

It has:
It is a digital scale.

Helps calculate calories and macros to lose weight.

It helps keep track of food portions.

It gives the nutritional value of any food article you add to it.

It automatically calculates calories as well as cholesterol, protein, and other fats for you.

It is easy to use.

10-year warranty.
7: Escali Arti Glass Digital LCD Display Kitchen, Office, Baking Herb Scale
Products from Escali are known for precision measurements, smart design, and exceptional value. The company's products combine contemporary design with unsurpassed accuracy to provide information in either standard or metric formats.
Bamboo is the perfect material for creating a continuous surface that is easy to clean. Use a damp cloth and mild detergent to wash the scale.
the scale, place the oversized item and press 'Hold'. When it beeps, remove the item to see the measurement on the display.
It includes:
LCD glass display measuring scale.

Very stylish c

omes in a variety of colors.

Can also be used to measure out herbs.

It is easy to use.

Comes with batteries.

Do not submerge in water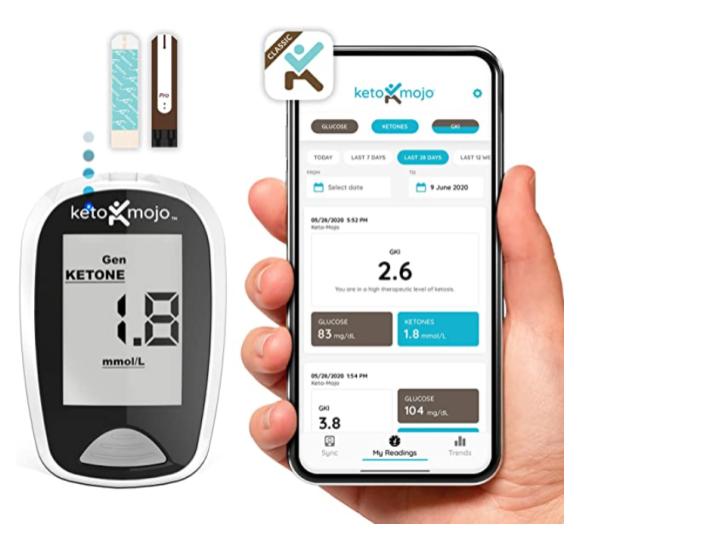 Wahoo this is the best ever tool you must have when on the keto diet.
KETO-MOJO is trusted and recommended by leading keto experts, healthcare professionals, and researchers for accurate glucose testing and ketosis monitoring. And it comes with a LIFETIME WARRANTY.
The system is enhanced with auto-coding, the largest memory with up to 1000 readings, foil-wrapped strips that offer sterility and long-term stability, and glucose control solutions.
Testing for ketosis and blood sugar levels can help you with your keto diet and diabetes management. With this dual test kit, you can discover how your diet affects your glucose and ketones levels and what foods may do so.
In short:
It is a monitor of your ketogenic diet.

It is more than just a meter.

Comes with an application that can be downloaded on the phone easily to keep track.

Immediately calculates any bodily changes as you eat.

Keep track of your ketogenic diet and give results.
9: Etekcity Nutrition Smart Food Kitchen Scale, Digital Weight Grams and Oz for Cooking
The Etekcity EK5150 kitchen scale, available in red and silver, is yet another quality product by Etekcity. It allows you to switch between units, tare weights, and enjoy the versatility of a light, removable bowl.
It doesn't matter if you're measuring solids or liquids, there is a unit that will ensure the most accurate result.

Navigating all the options is easy with two straightforward buttons. Select a unit to change the measurement. By pressing the Power/Tare button, you can turn on the scale or tare your current measurement if it is already on. The scale is turned off by pressing long.
It features:
 It is a multi-scale.

It comes with a digital weight scale and has an ounce reading as well.

Has Bluetooth-enabled technology.

Download application is also available for keeping track easily.

Available in different colors.

4.7/5 rating on Amazon.
10: OXO Good Grips 22-Pound Stainless Steel Food Scale with Pull Out Display
You can weigh ingredients–baking essentials, meat, herbs, keto snacks, and more–with OXO Good Grips Food Scale with Pull-Out Display.
It features an easy-to-read digital display with large numbers and measures in increments of 1/8 ounces (US) and 1 gram (metric) for exceptional precision. You may place the food directly on the stainless steel platform, on a plate/ bowl. Large plates and bowls do not cast shadows on the digital display since they can be easily removed from the base.
An easy-to-clean stainless steel platform and thin profile make it easy to set up, clean, and store. In addition to its use in cooking, baking, and calculating diet portion sizes, Cook's Illustrated highly recommends the OXO Good Grips Food Scale with Pull-Out Display.
An optional backlight enhances visibility, and a convenient weight indicator indicates how much of the 11-lb capacity is remaining. To offset or reset a container's weight, press the Zero button
Key Features:
A huge flex is that it has a function to eliminate the base weight of any bowl you put your fruit in.

Allows you to have calculated nutrients accurately.

Has a scale for ounces and grams.

Stainless steel.

Easy Cleaning.

Capacity up to 22lbs.

The display also tells how much capacity is left on the scale.
11: Dr. Colbert's Keto Zone Diet Book : Burn Fat, Balance Appetite Hormones
Dr.Colbert is one of the very prominent names when discussing the keto diet. His books are one of the must-haves if you are new to the keto diet. It includes:
A guide to getting rid of unhealthy things in your kitchen.

A meal plan for a week.

Shopping list for the diet.

Instructions to keep in check your ketosis level.
12: The Complete Ketogenic Diet for Beginners: Your Essential Guide12:
This book is a must-have for all beginners. It includes:
Simple but easy way to turn around your life as a keto pro.

Contains 75 yummy, fast, and easy recipes.

Leaving less to think this book has prepared a two-week meal prep done for you.

Shows you the bigger picture.
13: Essential Keto Bread: Sweet and Savory Baked Goods
This book is dedicated to just baking keeping in mind the keto diet. It includes:
Sweet and scrumptious baked good recipes.

Savory baked goods.

Tips to serve yummy baking goods.

Options of ingredients.

Contains 50+ baking suggestions.

All recipes are keto-friendly. 
What's the Best Way to Measure Portions?
A calorie deficit is a result of burning more calories than you consume in a day. Many weight-loss equations are based on this concept. In any case, the measure of calories that we consume consistently and our capacity to precisely gauge their changes. 
For instance, suppose our calorie-consuming assessments are simply precise to +/ – 15%. Regardless of whether your food estimations are 100% accurate, you will, in any case, be off by +/ – 15% every day in light of the inconsistency and mistake of our assessments of "calories out." accordingly, you shouldn't be 100% exact with your food estimations. You, instead, can utilize cups, tablespoons, and so forth and still get similar outcomes.
And for most food varieties, the distinction in estimation blunder between utilizing a scale and utilizing cups is not precisely the fluctuation in our day-by-day calorie uses, in addition to using cups is a lot simpler and quicker. On the off chance that we utilize earthy colored rice, 100 grams of cooked earthy colored rice is roughly a half-cup.
Regardless of whether your estimations were off by 25%, you'd just be eating 25 additional calories, a distinction you could consume just by standing while at the same time accepting calls during the day at work as opposed to sitting.
How we can measure food portions with a scale 
To get 25 grams of carbohydrates, you need 113 grams of carbohydrates equal to 4 ounces.
Step1:  Grab a food scale, turn it on, and make sure it's at zero; that way, you get the exact amount of weight you need.
Step2:  weigh the food out.
Step3: Keep an eye on the scale because a bit of addition can bring up the scale.
Portion your vegetables; non-starchy vegetables are mostly water, so they are low in calories and low in carbohydrates. They are also not high in proteins or fat, so they are free-for-all food. Lastly, weigh out your protein after putting the scale to zero to the meal's needed portion.
Verdict
Diet, in general, is a very different experience for every individual. As far as the keto diet is concerned, the food intake must be measured properly so that the body reaches the state of ketosis, which leads your body to lose weight.
Measuring out ingredients or food to prep meals ahead of time saves a lot of effort beforehand. Therefore doing meal prep by hands and assumptions can kick you way out of your initial body needs. This makes the measuring tools and scales more critical in the keto diet.
Furthermore, Any type of measuring set you order via AMAZON is not as expensive, and it is a one-time investment and has many other uses other than diet use. It can be beneficial for baking purposes, as baking is a huge part of the keto diet itself. Using the measuring tools makes life easier and removes all sorts of possible human errors in the diet intake during the keto diet.